Seated Throws: A Sport of Strength, Power and Technique

massive-dev  |  December 15, 2020
We're highlighting our sports and including all of the info you need to know to get involved and/or impress your friends starting with a sport of strength and power- Seated Throws.
Seated Throws is BCWSA's newest sport, initially launched in 2011, seated throws make up one of half our Wheelchair Athletics (Track and Field) program, complimenting wheelchair racing.
Throws are a great sport for athletes of all ages and a range of abilities who want to challenge themselves and improve their strength and power in a fun and supportive environment.
Seated Throwers compete in several disciplines including discus, shot put, javelin, and the para exclusive club throw.
Equipment
Seated Throwers compete in specialized throwing frames that allow the thrower to access all of their power and functional movement. Throwing frames are included within the BCWSA Wheelchair Loan Program and our knowledgeable staff and coaches work with athletes to set them up for success.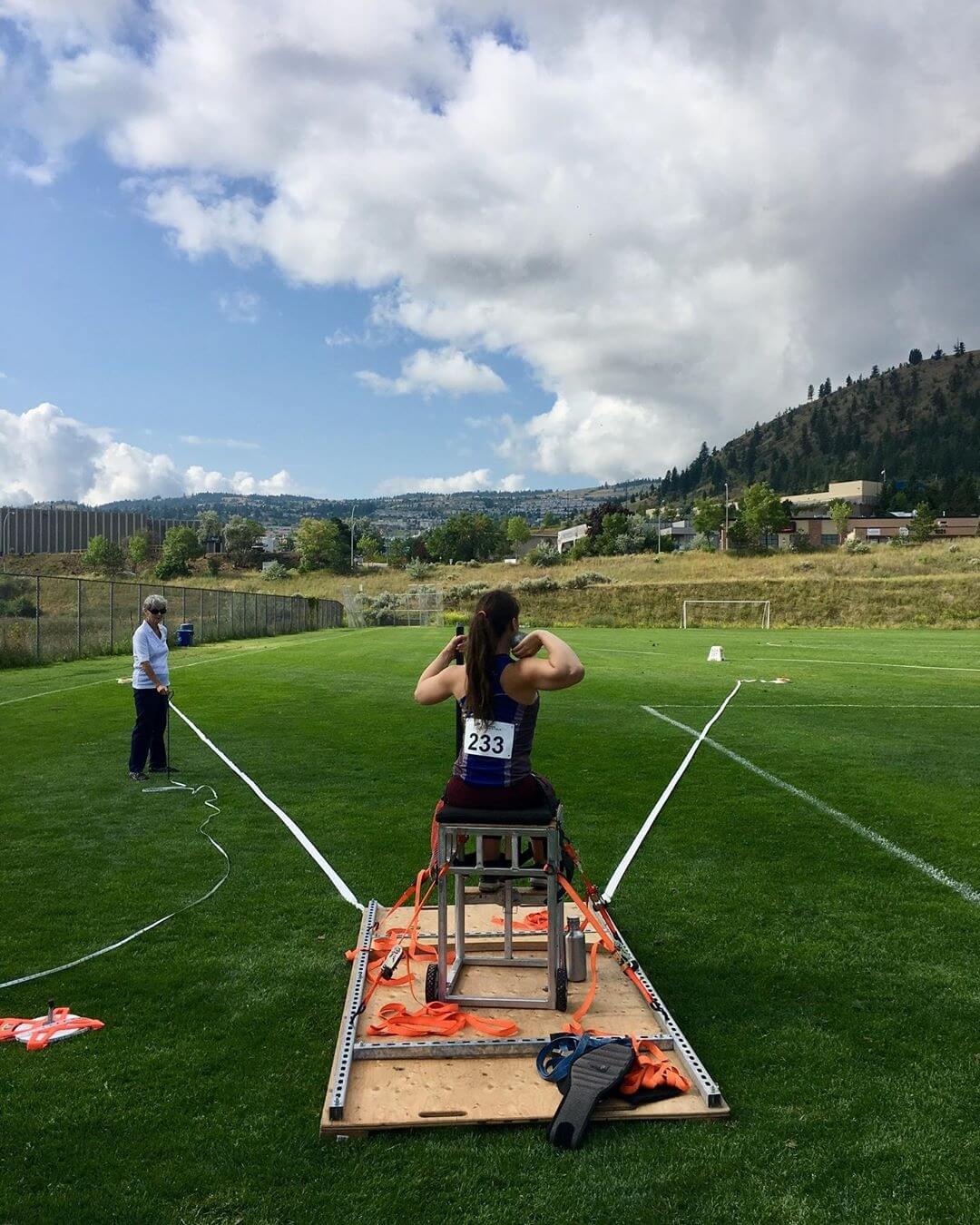 Who Can Throw/Classification
Seated Throws is for athletes that are unable to stand and/or have balance and stability problems that make throwing from an ambulant position difficult. Athletes with a wide range of impairments are eligible to compete including spinal cord injuries, cerebral palsy, spina bifida, amputation, and more. Seated throws are open to both men and women and we offer programs for juniors and adults.
At the competitive level. athletes are grouped into one of 11 classifications based on their impairment type and level of mobility to ensure fairness and that winning is determined by skill and fitness as opposed to function.
F 31, 32, 33, and 34 – Coordination impairments (hypertonia, ataxia, and athetosis) often from impairments like cerebral palsy, traumatic brain injuries, dytonia, and stroke
F 51, 52, 53, 54,55, 56, and 57 – Limb deficiency, leg length difference, impaired muscle power, or impaired range of movement. This includes spinal cord injuries, amputations, arthrogryposis, and neuromuscular conditions like Charcot-Marie-Tooth, muscular dystrophy, etc.
The higher the number, the more function an athlete will have in their hands, arms, trunk, and/or legs.
In meets or competitions where athletes of different classifications have to compete against one another,the Raza Point System is used. This system uses a mathematical formula to calculate winners while accounting for differences in physical function. As an example, an F33 athlete with a shorter throw might end up winning an event against an F55 who threw farther. This is accomplished by applying a specific value to each athlete's throw based on their classification. Similar systems but not identical systems are used in para-skiing and para-cycling.
To learn more about classification in seated throws and para-athletics, click here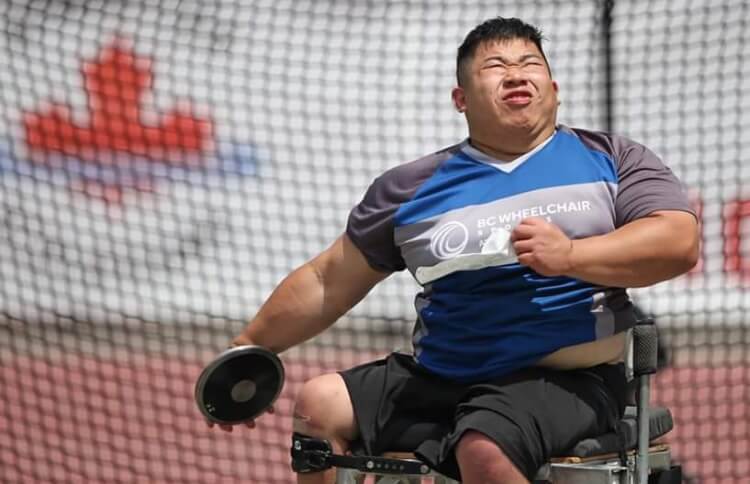 ,
Competitions
Seated throwing events are included in many track and field meets across BC and are part of the Canadian Track and Field Championships and Canada Summer Games.
Seated Throws for men and women have been a part of every Paralympic Summer Games since the first Games in 1960 in Rome.
Team BC
The BC Provincial Wheelchair Athletics competes at events around Canada and North America each year. Athletes compete against competitors from across the country and each other for medals and the right to call themselves a national champion. Despite our relatively short history, BC has already prodBcw.uced several national medalists and champions in seated throws.
Most recently, Team BC throwers brought home 5 medals at the 2019 Canadian Track and Field Championships including gold in Men's Discus for Dakoda Darling.
On the international stage, Eddy Solla has competed for Canada at CPIRSA World Games.
Team BC is coached by BCWSA's provincial Seated Throws Coach, Garett Collier, and includes athletes Dakoda Darling, Eddy Solla, and Daryl Yuen
Get Involved
We're always looking for more people to get involved and try throwing. To learn more about seated throws and find out programs about you, please contact Program Coordinator Ana Karanovic at ana@bcwheelchairsports.com